Building for your Future
Our long-term vision is to build a truly sociable and sustainable community – but we will not be doing this alone.
We care passionately about creating an environment suitable for modern living and work opportunities in tune with the environment and we will be working with the UK's leading housebuilders to achieve this.
This is only the beginning of a 30 year vision which will realise our long-term commitment to create 5,000 new homes and 48 acres of employment land within the beautiful surroundings of Kingsfleet.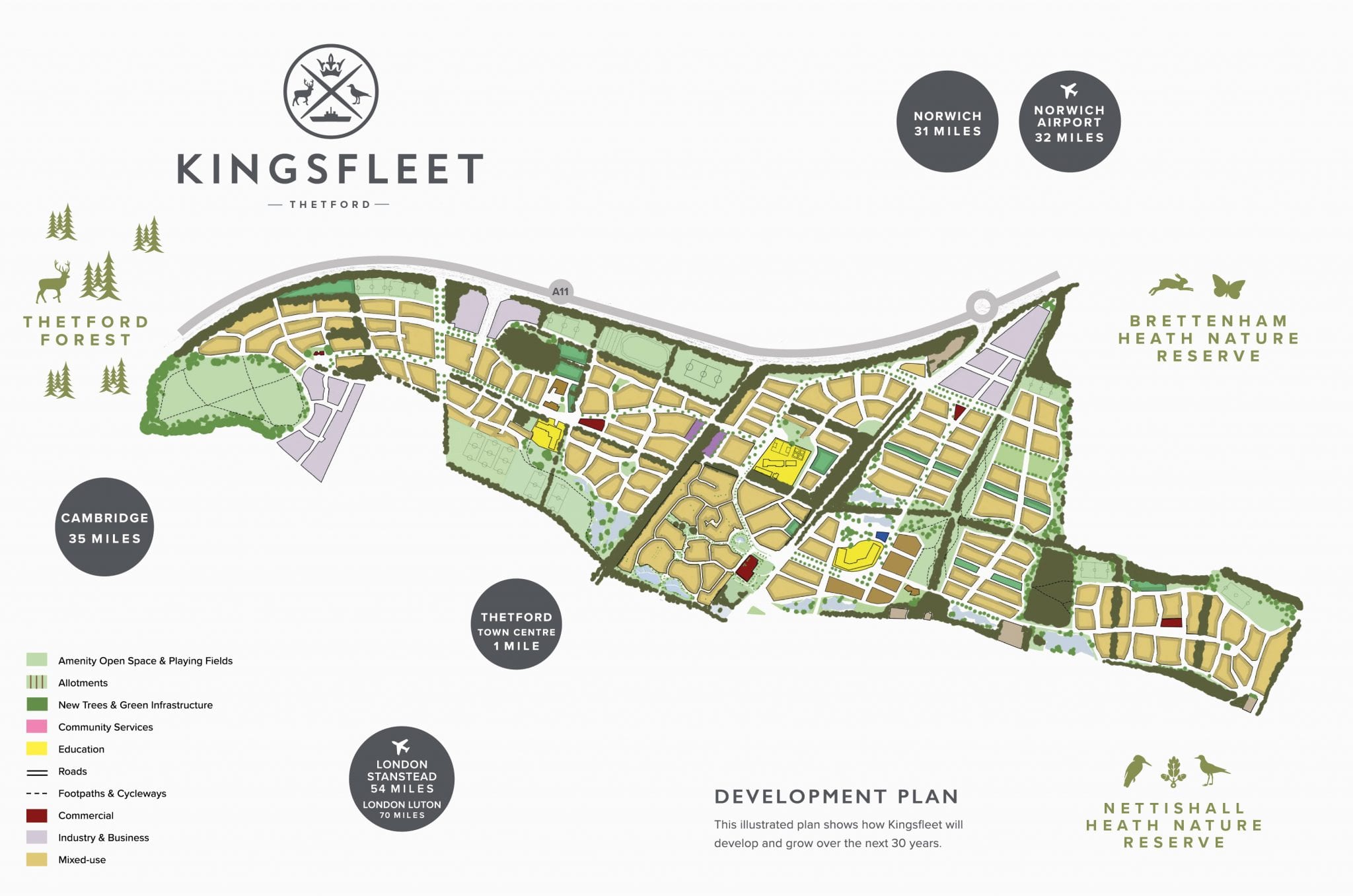 The Master Plan
The Kingsfleet community will offer a perfect environment for both living and working. The 30 year project will see the delivery of superior services for families with designated work zones. Schools, a nursery, a health centre, shops, public spaces including parkland and allotments will all be integral to the development.
Homes will be planned to the highest standards of design and efficiency and will be surrounded by green spaces for families to play and grow.
Cambridge-Norwich Commuter Belt
Kingsfleet is next to Thetford town which is located equidistant to the cities of Cambridge and Norwich.
Situated near to the improved A11, Kingsfleet provides a road commute time to Cambridge of 45 minutes and Norwich of 35 minutes.
Thetford train station is on the centre of the Cambridge to Norwich line, offering trains to Norwich in 37 minutes and Cambridge in 47 minutes, making an ideal commute.
Town & Country Living
Surrounded by glorious countryside, market towns and the magnificent Thetford Forest, Kingsfleet offers a winning blend of rural community living with the latest technology and excellent connections to local towns and cities.
Kingsfleet means taking pride in the place you call home. It will set the standard for community and shared experience; for contentment and harmony.